Homage to Philippe Callens

English Country Dances with Simone Verheyen

Music: Paul Hutchinson, Ellen Delahanty, The New Ramblers
For whom
For experienced dancers who can dance all figures of English Country Dances without instruction.
When
Friday evening October 15 (7 p.m.) till Sunday afternoon October 17, 2021 (4 p.m.)
Where
Provinciaal Vormingscentrum (PVC)
Smekenstraat 61, 2390 Malle.

Rooms for 1, 2 (limited), and 4 are available. Each room has one or more washbasins; showers and toilets are nearby
Teacher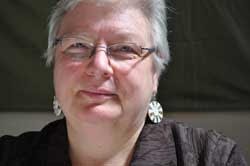 Simone Verheyen
Simone started dancing at the ripe old age of 11, and hasn't stopped since. In the beginning her repertoire was very international. She started teaching in the seventies. Influenced by Philippe Callens and AADS, she discovered the English Country Dances and New England Contra Dances in the late eighties, and this repertoire has been her favourite pastime ever since. She especially likes the variation in music and the lovely tunes, as well as the flowing figures, and the interaction between the dancers.
Her repertoire stretches from the earliest Playford collections to contemporary choreographers. Simone regularly teaches in Flanders and the Netherlands, and annually at a weekend in Scotland. She has also taught in England, Wallonia and Germany.
On the weekend the dancers will be treated to musical entertainment by excellent musicians who have already played at AADS workshops several times:
Paul Hutchinson
(accordion),
Ellen Delahanty
(piano) en
The New Ramblers
, consisting of
Dries De Maeyer
(recorders),
Joris Leemans
(accordion).
Programme
English Country Dance

This time the weekend coincides with the funeral ceremony for Philippe Callens, which had to be postponed due to the pandemic.

All participants will have the opportunity to attend the ceremony in Wilrijk. For that reason no workshops will be held on Saturday morning and an extra workshop will be held in the afternoon. AADS will arrange transport to and from Wilrijk. Therefore please tick if you wish to make use of this transport. Participants who do not wish to go to the ceremony can take a walk in Malle.
Price
€ 175

This includes tuition, room, five meals, and coffee/tea during the breaks.
Vegetarian meals must be ordered with your subscription, but there is no surcharge.
Surcharge for diet is 12 €
Subscription
You should register for courses at least 4 weeks before the start, by means of
the registration form
(by e-mail) or by telephone. When the 48 dance places are full, registrations will be closed
Your registration is only valid when AADS has received your payment. Before that your registration is on a waiting list. Participants will receive confirmation and about two weeks in advance a letter with extra information.
Payment
Registration for weekends and weeks should be accompanied by a transfer of the course fee to one of the following bank accounts:
Europe: Fortis Bank, IBAN BE82001218540268; BIC code: GEBABEBB
United Kingdom: HSBC, ME 14 1HX / 40-31-06 31756710
Additional bank charges are at your expense. Please mention 'Autumn Weekend 2021'.
Cancellation
If you cancel until 2 weeks before the start of the course your payment minus 10% is refunded. If you cancel within a fortnight before the start of the course the amount minus 30% costs is refunded. If you do not cancel at least 24 h in advance there is no refund.