English Country Dances with Rosemary Hunt

Music: Ellen Delahanty, Marieke Van Leersum, Kees Mook
For whom
For experienced dancers who can dance all figures of English Country Dances without instruction
When
From Friday evening April 22 (5 p.m.) with warm dinner, till Sunday afternoon April 24, 2022 (4 p.m.)
Where
Youth hostel Die Loyale
Gentse Steenweg 124, Maldegem

Rooms for 2 and or 4 (2 per 2 with shared bathroom in the middle) are available. Each room has a bathroom with shower and washbasin and a separate toilet.

Attention: NO SINGLE ROOMS AVAILABLE.
Caller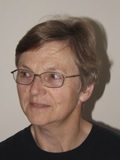 From rural Dorset we have
Rosemary Hunt
, a fine teacher of both contemporary and historic English country dance.
Co-editor with her husband Steve of the collection Dances from 1792, caller at dance weeks and weekends in the UK (Halsway Manor, Chippenham , Lichfield, Eastbourne), US, Belgium, and Holland, Rosemary is the resident caller at the Wareham Folk Dance Club and organizer of Dorset's popular Purbeck weekend. She also choreographs dances, setting many of them to tunes by her husband Steve.
During the weekend, the dancers will be treated to musical entertainment by excellent musicians who have already played at AADS workshops several times:
Ellen Delahanty
(piano),
Marieke Van Leersum
(recorders),
Kees Mook
(violin).
Programme
English Country Dance
Price
€ 190

This includes: tuition, overnight stay with breakfast, 2 hot meals, 1 cold meal, packed lunch on Sunday and coffee/tea during the breaks. Vegetarian meals to be ordered at registration.
Registration
You should register for courses at least 4 weeks before the start, by means of
the registration form
(by e-mail) or by telephone. When the 36 dance places are full, registrations will be closed
Your registration is only valid when AADS has received your payment. Before that your registration is on a waiting list. Participants will receive confirmation and about two weeks in advance a letter with extra information.
Payment
Registration for weekends and weeks should be accompanied by a transfer of the course fee to one of the following bank accounts:
Europe: Fortis Bank, IBAN BE82001218540268; BIC code: GEBABEBB
Additional bank charges are at your expense. Please mention 'Spring Weekend 2022'.
Cancellation
If you cancel until 2 weeks before the start of the course your payment minus 10% is refunded. If you cancel within a fortnight before the start of the course the amount minus 30% costs is refunded. If you do not cancel at least 24 h in advance there is no refund.